Drummer Marvin "Smitty" Smith has long been holding down the drum chair with NBC's The Tonight Show with Jay Leno for several years now with guitarist Kevin Eubanks (or whatever the show is called now. Sorry I don't really watch television...or at least not any talk shows. I stick to Lost, CSI: Las Vegas and The Office - all on DVD of course !)
Anyways, looks like Smitty got nailed pretty good a few years ago in a back stage prank set up by Leno and MC Hammer (!)
Dig that debacle here:
Although I think Smitty does hold himself pretty well wearing those MC Hammer parachute pants (!) and showing off his dance moves, I think I prefer his days as the drummer with the Dave Holland Quintet.
Here's some great footage of Marvin with the Dave Holland band from 1986 also featuring Kenny Wheeler, Robin Eubanks and Steve Coleman:
I was just going to post one tune from that Dave Holland concert but, man, it all sounds so good ! Couldn't help myself...some great music there. Brought back memories from my undergrad days at McGill when my partner in crime, bassist Sage Reynolds would hip me to his favorite Dave Holland records on a regular basis.
This particular edition of the Dave Holland Quintet was one of the perennial jazz groups of the 1980s and while Holland was the artistic director of the Banff International Jazz Workshop, this entire group would be on faculty at the Banff Centre during the summers. Consequently, this group of musicians and their teachings have had a profound impact on an entire generation of Canadian jazz musicians and their music as well.
While Marvin "Smitty" Smith was instructing drummers out at the Banff Centre, he distributed a copy of his approach to developing jazz coordination on the drum set. It is a very comprehensive method and follows the line of drummer Alan Dawson's approach to coordination as well (i.e. using Ted Reed's Syncopation book).
I've seen several versions of these pages come from several different sources, from different drummer's from across Canada, and every once in awhile I'll see a new page pop up somewhere. So it's safe to say that these pages of drum exercises have also had a profound effect on Canadian jazz drumming, having been passed through different teachers and students across the country over the years. In fact , I got my particular copy from drummer Kevin Dempsey (a GREAT drummer from the Toronto area) and then a few other missing pages from my teacher, Dave Laing at McGill University.
*In fact, I'd even refer to Kevin Dempsey as Canada's Marvin "Smitty" Smith (!) Kevin plays great straight-ahead jazz, has great chops and really nails the fusion bag as well. If you are ever in the Toronto area, make sure to catch him holding down the drum chair in Paul Read's PRO Orchestra*
This is a photocopy of a photocopy (likely from another photocopy!) but here are the "basic" Smitty coordination exercises:
Be prepared to spend ALOT of time on these pages. There is literally several years of hard work in there !
On another note, Smitty has two outstanding albums out as a leader that were released back in the 80s, "The Keeper of The Drum" and "The Road Less Travelled". These albums showcase not only his superb drumming but his composition skills as well. They might be hard to find these days, but worth it if you can find them. I hope Smitty considers releasing another album in the near future.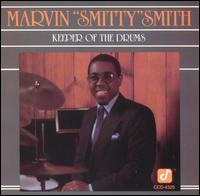 Finally, to finish things off today - here's Marvin "Smitty" Smith guesting with the Buddy Rich Big Band: